Welcome
Thank you for your interest in Valley View School. For almost 50 years, Valley View has worked with adolescent boys to guide them through the challenges of adolescence and help them develop confidence, empathy, and a positive sense of identity. These are difficult times to be a teenager, and difficult times to be a parent. The pressures and influences of the modern digital world are daunting, especially for boys who may be struggling with their own issues. It is easy to become stuck or find oneself on a negative path. Our focus at Valley View is to provide our students with a path back to health, emotional balance and well-being. Feel free to explore our website and if you conclude that Valley View might be of assistance to you and your family, please give me a call. I would value the opportunity to discuss the needs of your son and the benefits of our school.
Thomas Nowak, PhD
Executive Director
Mission and Philosophy
The mission of Valley View School is to provide a comprehensive academic and therapeutic environment within which our students can become the best possible versions of themselves.
Overview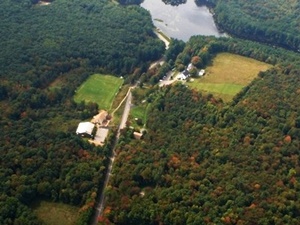 Valley View School is a therapeutic boarding school. We take the entirety of this term seriously. Overall, Valley View has the structure and sensibility of a classic New England boarding school, with 215 acres of wooded land, a pristine lake, beautiful dorms, and a sports complex. Look a bit closer and one sees a supportive academic program, sports teams, theater, arts, music, community service, and international travel. These experiences are designed to "reset" boys back into a healthy developmental rhythm.
Within this normalizing context, we provide extensive therapeutic engagement. Our therapeutic milieu has been honed over 50 years to contain acting out without drama, and support healthy emotional expression and behavior regulation. We provide intensive advising/mentoring, plus individual and family psychotherapy. All students participate in our ongoing group therapy program. In addition, we provide a wide variety of specialized therapy groups designed to address areas of life with which our boys often struggle. Through this process, we provide our boys with paths to becoming healthy, balanced and productive young men.
History
Dr. Philip Spiva founded Valley View School in 1970, based on his vision of a therapeutic boarding school–a term that did not even exist at the time. As an undergraduate studying Psychology at Boston University, Dr. Spiva worked at the prestigious Judge Baker Guidance Center in Boston where he learned about direct child-care. He also spent several summers as a counselor at Camp Wediko in New Hampshire, coming to understand the problems faced by troubled youth. While pursuing his Ph.D. in Clinical Psychology at the University of Oklahoma, Dr. Spiva envisioned a small boarding school for boys with a structured environment and a strong academic commitment, where boys could mature at their own pace, guided by an empathetic staff, away from the pressures of the outside world. From that modest beginning, Valley View has grown a great deal, but its basic philosophy has remained the same: a distinct mix of structured residential life, academic strength, and a therapeutic milieu fostered by the school's solid, enduring values.
Over the last few decades, there have been many advances in the fields of neuroscience and adolescent development. Valley View School has used this knowledge to add a tremendous amount of therapeutic engagement and special education expertise to our program.
Our current program represents the evolution of Valley View School. The foundation of our school continues to be based on Dr. Spiva's vision and philosophy, while our clinical acumen is state of the art.Thus,Valley View School is uniquely suited to confront the challenges that our modern culture presents to boys who need special guidance in order to mature and flourish.