The Arts
Theater
We know that our boys are capable of amazing things when they are challenged. Our Theater Program affords our students the opportunity to step out of their comfort zones and challenge themselves creatively and therapeutically. Valley View has a well-equipped theater and features two main stage theatre productions a year.; Students interested in acting have the opportunity to audition and be cast in these productions. Valley View students who are not interested in acting, but prefer a more "behind the scenes" position may work hands-on in stage management, lighting, sound, set construction, set painting, costuming and props. Previous productions include old favorites such as Dracula, The Odd Couple, Sherlock Holmes, The Jungle Book and The Wizard of Oz, as well as lesser-known pieces such as Too Many Cooks and On the Same Frequency. Our theatre productions are open to the general public, families, referral sources and staff.
Valley View students have the opportunity to participate in theatre activities throughout the year including drama games, acting improvisation, and scene writing. They also have the opportunity to experience technical theatre outside of our campus by working and volunteering at a local community theater. Students often enjoy excursions to community, regional, high-school and college theatre productions.
Film/Media
Valley View's Film Club introduces students to the world of film. It explores the process of producing a film from start to finish. Students are in charge of their creative vision as they write a creative short scene or a commercial. The process includes scriptwriting, casting, directing, filming and editing. Students learn about creating storyboards, camera moves/angles and types of shots including filming in front of a green screen and on location. The boys complete their films by editing them with current computer software. When films are completed, the boys share their films with parents and the school community.
Music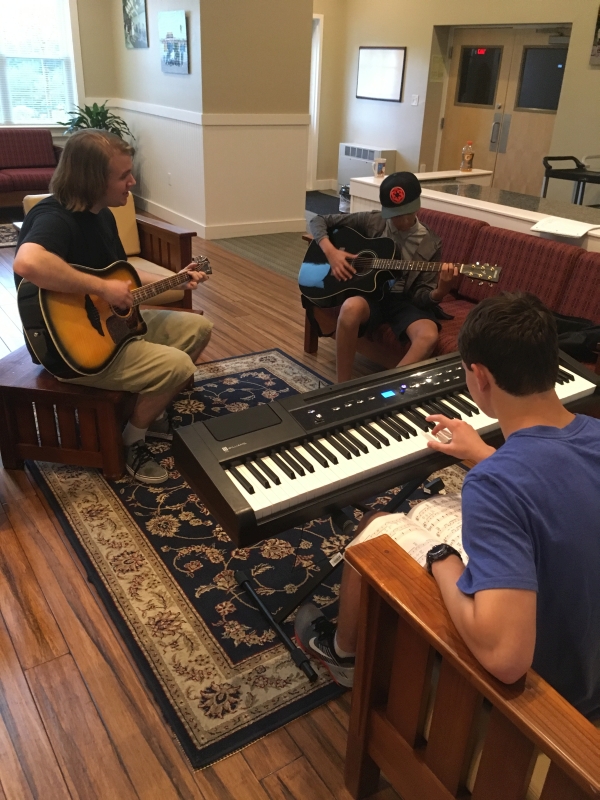 Music is an important part of life at Valley View. Many of our students take music lessons on a variety of instruments, such as ukulele, guitar, drums, and keyboard. In situations where a student has a specific musical interest, we are often able to arrange for specialized instruction, such as one recent student who received classical piano instruction from a UMASS Amherst music department graduate student. Voice lessons are also available for interested students. Public performances for parents and the community are periodically held. Various general activities that involve music are integrated into our program, such as karaoke night, music appreciation and musical improvisation games. Our students also attend musicals, theatre, local concerts, and assemblies featuring professional musicians.