Summer Program
At Valley View School, we firmly believe that continuity and structure within our program are paramount to the success of our students. To foster this value, Valley View offers a twelve months program that includes a six-week mandatory summer program. This summer program provides many summer camp type activities, as well as an academic component that includes math and reading. We structure our summer program to be a fun, dynamic experience for students by including a wide variety of daily activities, along with numerous field trips. Our goal is to have students "learn while doing." Students will be active both physically and mentally on a daily basis. In addition to participating in a wide variety of activities on campus, they will also have many additional opportunities to see what sights our town, surrounding cities, and even our surrounding states have to offer.
"A Typical Day" of the Valley View Summer Program


| | |
| --- | --- |
| Breakfast | 8:10-8:40 |
| Room Time (room clean, hygiene) | 8:40-8:55 |
| 1st Period (Weekly Schedule) | 9:00-9:55 |
The population is divided up into 5-6 groups (up to 8-10 students per group). 1st period is structured with five group activities. These activities operate simultaneously, including all students. Group activities are assigned on Monday morning and run for the duration of the week. Each group participates in one activity per week, rotating through each of the five activities by the summer's end.
Activities for the 1st period may include:
Tennis Skills
Art (a variety of projects such as mosaic tiles, wood burning, ceramics, painting, etc)
Rocketry (building and launching a rocket kit)
Soccer Skills
Golf Skills
Fishing
Current Events
Gardening/Planting
| | |
| --- | --- |
| 2nd Period (Class) | 10:05-11:00 |
Each student will choose a summer "class." This class does not carry the formal role of a traditional academic class and instead, the grade evaluation is based on participation and class projects (homework/exams are not required). Field trips, hands-on activities, documentaries, interactive lessons, etc will be included in the daily curriculum. The goal of the class is to learn as you have "fun." The class runs each day, M-F for the entire 5-week program.
Classes for the 2nd Period may include:
History of Baseball
Nature/Ambient Photography
History of Film
"Curious" Historical Facts about New England
Arts & Crafts
Animal Investigation/Studies
Oceanography
Meteorology
Music/Art of a Generation (60's, 70's, 80's)
History of Rock N Roll
Painting (landscapes and still art)


| | |
| --- | --- |
| 3rd Period (Sign-ups: physical activities) | 11:10- 12:10 |
All students are required to complete a period of physical activity each day. Physical activity helps the body and mind and is an important component of the daily routine. Several options are offered each day with the intention to have options for different tastes and skill levels.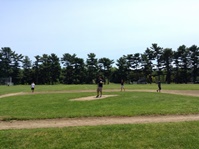 ** Signups for the period will take place at the end of breakfast.
Activity options may include:
A walk around either Rutland State Park or our reservoir
Tennis
A pickup incrediball game
Dodge ball
Golf chipping/putting
Outdoor lawn games: horseshoes, croquet, badminton, frisbee golf, cornhole, kanjam,
Ping Pong
Basketball (indoor or outdoor courts)
Disc Golf
Frisbee (traditional or frisbee golf)
Archery
Football
A pickup softball game
Softball home run derby
A short run
Capture the flag
*A local mountain hike (Mt. Wachusett, Lake Tully, Mt. Monadnock) is offered every week. Participating in one of these hikes will count as your 2 physical activities for the week!


| | |
| --- | --- |
| Lunch | 12:20- 1:00 |
| In Rooms | 1:00-1:20 |
| 4th Period (Reading) | 1:30-2:30 |
Each day after lunch students will return to their 2nd period summer class for an hour of reading. As they finish books, the students will use the Accelerated Reader (AR) program to demonstrate their comprehension. (ACCELERATED READER WEBSITE) There will be 2 levels of AR pts; Junior high school and high school. Junior high school students (6th-7th grade) will be required to complete 6 AR pts and high School students (8th-12th grades) will be required to read 10 AR pts by the end of the summer. Summer AR pts are carried over and applied to the 1st Midterm AR requirements that are due in October.
| | |
| --- | --- |
| 5th Period (Sign-up) | 2:30- 3:30 |
*This period will be similar to the sign ups that we have every day during the school year. There can be board games, TV shows, movies, along with sports and computers. During this period there will be extra math ALEKS for students who are behind from the school year (Math can also be offered during 3rd period sign ups). Students who are falling behind on their reading can use this period as an extra reading opportunity.
** Signups for the period will take place at the end of lunch.
Field trips: Several field trips go out every week...
We purchase the Boston City Pass to offer a major Boston field trip for each of the classes: Boston Museum of Science, Boston Museum of Fine Arts, Prudential Skywalk, New England Aquarium,
We take full advantage of the trips offered by "Free Friday Field Trips"
Additional trips offered:
Tour of Historic Fenway Park (home of the Boston Red Sox)
Boston Freedom Trail (with "in character" guide)
Battle Ship Cover
Zoo (Southwick, Lupa, Forest Park)
Art Museums (Amherst College, Smith College & many others)
Minor League Baseball Games
Beach Trips
Botanical Gardens
Historic Sturbridge Village
Local Record/Music Shops (Joe's Albums, Turn it Up, Mystery Train Records, Platterpus Records)
Exploring the Quabbin Reservoir
Exploring Rock House Reservation
Exploring the Swift River
Canoeing