Art Program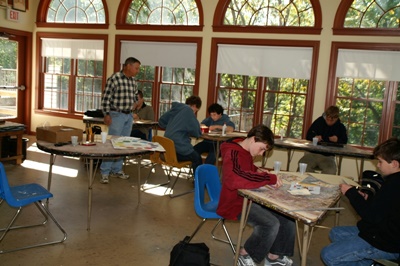 The Valley View art program is an exposure to a variety of medium that is associated with both traditional and non-traditional materials which are utilized to create two and three-dimensional art forms. Art provides another positive outlet for our students and being engrossed in the process of creating art can be very therapeutic. All middle school students have art class built into their schedule and every student has the opportunity to take art as an elective course. Our spacious 600 square foot art studio is well lit and has 20-foot ceilings. Connected to the art studio is an expensive outside deck area that provides extra space for students to work on their art. Our highly experienced art teacher has worked at Valley View since 1987 and he continues to create new projects for our students as our art program continues to evolve. Here is a list of projects the students engage in during the course of an academic year:
2 Dimensional Art

Oil Painting
Acrylic Painting
Water Color Painting
Ink and Pencil Drawings
Tape Art
Block Printing
Wood Burning
Principles of Perspective
Collage / Mixed Media
Glue Painting
Glass Art
Pixel Art
Scratchboard Art

3 Dimensional Art

Mosaics
Metal Craft
Balsa Wood Construction
Craft Stick Construction
Bridge Building
Cityscape Construction
Wire Armature Sculpture
Wood Carving
Soapstone
Wire Sculpture
Cardboard Construction
Mask Making
String Art
Ceramics: Pottery & Handbuilding
(We have a pottery wheel and kiln)
Additionally, we offer specific electives in painting, photography, drawing, and woodworking.