Accelerated Reader Program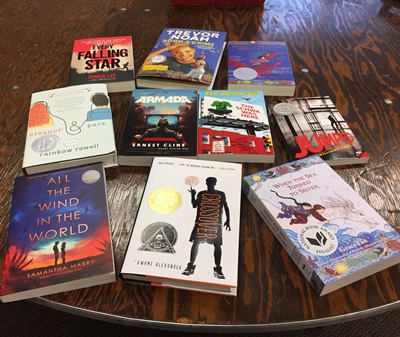 The AR Program is a supplemental program used in our English classes that require students to read books of their choice, in addition to our English curriculum. Within the AR program, students are able to choose from thousands of books on their reading level (Lexile range). After the completion of the book, students take an online reading comprehension test. Because the students are able to choose the books they find the most interesting, it empowers them and makes their decision part of the process of finding an appropriate reading level book to read. Through the AR program, many of our students who previously refused to read have become avid readers. We have a large library that contains many "boy-centric" books for our students to choose from. All books will be labeled according to genre and the first three letters of the author's last name for easy reference. In addition, we will have shelf markers and stickers to indicate books that have won certain awards. We are starting with John Newbery Medal and Honor books, Coretta Scott King Awards, National Book Awards, and the Michael L. Printz Awards.
In 2010, Valley View made a change to its reading program. All teachers were in agreement that students would become more successful and productive readers (outside of the classroom) if the choice of what book to read was put into their hands. We adopted the Accelerated Reader program and haven't looked back! We have witnessed countless success stories over the last six academic years, with many students completing their first book ever while at Valley View. Students who begin our program saying that they "never read" or "don't like reading" leave as avid readers. Our success rate with the Accelerated Reader program has been over 95% year after year. Accelerate Reader does not take the place of content reading in the classroom. Students in English classes still read short stories, novels, essays and poems based on the curriculum provided in the English curriculum framework. Accelerated Reader focuses on independent reading, outside of the classroom. According to research, children who read at least 20 minutes per day see gains in vocabulary and comprehension. Valley View includes reading in the evening study hall curriculum, allotting 20 minutes of reading per night as part of the student's required nightly homework.
What is Accelerated Reader?
Accelerated Reader is a computer program that helps teachers manage and monitor children's independent reading practice. Your child picks a book at his own level and reads it at his own pace. When finished, your child takes a short quiz on the computer. (Passing the quiz is an indication that your child understood what was read.) Accelerated Reader gives children and teachers feedback based on the quiz results, which the teacher then uses to help your child set goals and direct ongoing reading practice.

Children using Accelerated Reader choose their own books to read, rather than having one assigned to them. This makes reading a much more enjoyable experience as they can choose books that are interesting to them. Students become more invested in the reading process when you empower them with their own choice. Teachers help your child pick books at an appropriate readability level that are challenging without being frustrating, ensuring that your child can pass the quiz and experience success. Some students may require support from the teacher as they progress through a quiz when faced with the uncertainty of vocabulary words or confusion over what the question is really asking. The teacher will be there to give the student guidance to ensure that they have a full understanding of the content of each question. If your child does not do well on the quiz, the teacher will review strategies to help strengthen comprehension and recall in order to prepare your child for a retake.
When students are reading books at their reading and interest levels, they are more likely to be successful. This is satisfying for most children. Best of all, they learn and grow at their own pace. When children read books at an appropriate level, they experience success.
If you have additional questions, please feel free to contact our Director of Education, Rick May at r.may@valleyviewschool.org , or visit the Accelerated Reader website.